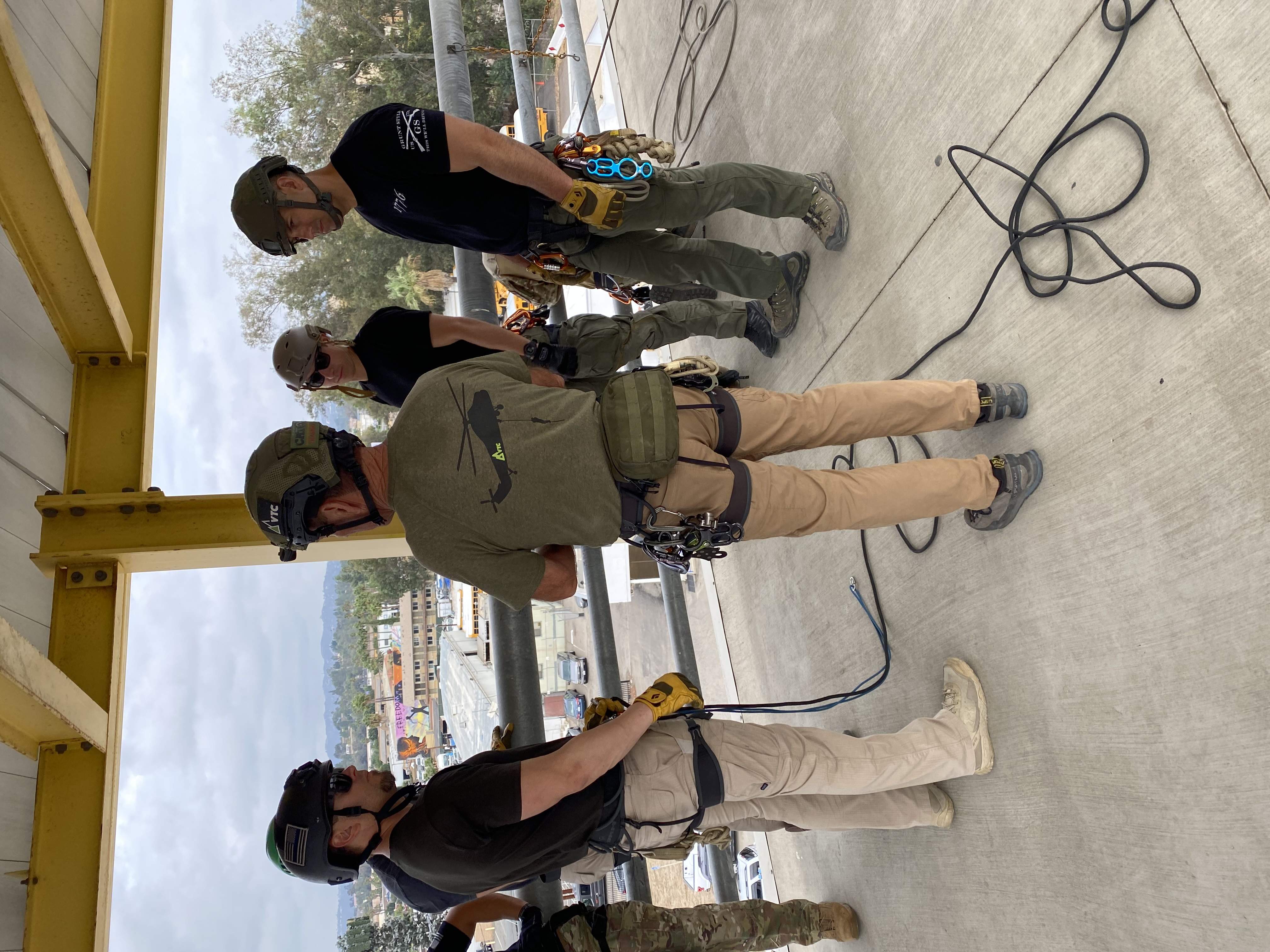 3 day Civilian Rope Access Class (RAC)
The purpose of RAC is to provide vertical movement techniques that apply to a full spectrum of environments (urban through mountain). The course covers equipment, descending, ascending, rescue, anchors and more. RAC takes into account that many people are not full time rescuers, where doing rope access may not be in their everyday job description. We do not teach numerous and complicated knots. We teach a small variety of knots and hitches because of their ease to recall and tie when there is an emergency, harsh environmental conditions, etc.
Course Info
PREREQUISITES
This course is open to the public 18 years and older. Prior rope experience is not a requirement. Students need to be physically fit. This is a very strenuous course and students must be capable of strenuous physical activity. Work at height is dangerous and a waiver must be signed.
Equipment Requirements
Gloves
Helmet
Boots or Approach shoes, etc
Seat Harness
Recommended personal rope gear-
6 carabiners- 4-5 RockExotica Pirate auto-locking, 1 Rock-O (other manufacturers are accepted)
Descent device
VT Prusik- Bluewater 7mm
Petzl Microtraxion or Edelrid SPOC
Petzl Rollclip
RockExotiva MiniMachined Pulley
Purcell Prusik - 16 feet of 6mm cord, preferably made with technora
Rope grab- Petzl Tibloc, Wild Country Ropeman 2, etc
25' of 1" tubular webbing- Sterling or Bluewater
Rappel equipment can be rented, or the complete set can be purchased with prior notice to VTC
***Manufacturer specifications for equipment state that plastics and fabric materials have a useful life of 10 years. Metal products have no "expiration", however, wear and tear can be inspected for and equipment retired when there is significant wear noted. VTC retains the right to inspect personal equipment brought to a course and deny a participant's use of said equipment if it does not pass muster.***
COURSE LENGTH: 3 Day
COURSE HOURS: 30 Hours
COURSE TOPICS:
Equipment selection and inspection
Single Rope Technique
Knots, hitches, etc
Anchors
Descending and lowering
Edge Transitions
Belays
Ascending
Mechanical Advantage (MA) systems
Knot passing
Jammed device escape
Pick off
Uses of tubular webbing
COURSE COST: $1200
Upcoming Courses